Certified Military Residential Specialists
Folks, interest rates are still incredible! 30 yr fixed rates up a tad, in the low 3-4% in most cases and 15yr fixed in the high 2's low 3's %!
Check us out on Facebook
https://www.facebook.com/pages/Martin-Johnson-Real-Estate-World/432006293532015?ref=hl
Daylight Savings Time
Fall Back
11/5/17
Election Day
11/07/17
MARINE Corp Birthday
11/10/1775
Veterans Day
11/11/2017
Market Update!
Fall 2017
Trend in Northern Virginia indicates that real estate is doing better. The last quarter of 2017 was quite strong. Low interest rates and an improving economy is in the horizon once again. What is known is that interest rates are terrific and whether you are renting or owning, you likely are making a mortgage payment. Wouldn't you rather be making it for yourself? Plenty of inventory and motivated sellers, it just may be a good time to buy.
Closer in neighborhoods of single family homes still continue to do best, and the most challenging market has still proven to be condos in the outer areas. Proper pricing and condition continue to be critical.
What is known is that if you feel good about your employment probability and income potential, then now is a very good time to buy real estate. Why? Prices are way down as compared to nearly a decade ago, but the market is heading upward in strong markets.
Rates do move up and down through out the week. Check with us or your lender to be sure.
Be ahead of the next real estate boom! Buy now while prices remain down. Call or email us today.
Welcome to Martin & Suzanne's Real Estate web site.
Here you will find a wide variety of useful information and resources designed to help you buy or sell a home more effectively in the Northern Virginia areas. From information on the local community, to advice about finding a mortgage or preparing your home to sell, it's all available here on our web site.
You can also search for your ideal home by viewing current listings with detailed descriptions and photos. Or you can get help determining the value of your home by requesting a report that includes the prices of similar homes that recently sold or are currently for sale in the Northern Virginia areas.
So whether you're buying or selling, feel free to contact me and Suzanne and Martin will be happy to help you with all your real estate needs.
Buyers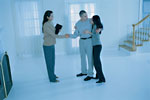 Whether you're looking for your first home, your dream home or an investment property, Suzanne and Martin are committed to providing you with the highest quality buyer service. When making the type of investment that buying a home requires, you deserve to have all the latest market information and the very best advice, both of which we can provide you with. Read more.
Sellers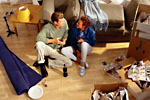 The decision to sell a home is often dependent on many factors. Whatever your reasons are for selling, our proven effective marketing strategies will ensure that you get the highest possible price for your home. Suzanne and Martin guarantee to provide you with professional, ethical and confidential service and keep you fully informed every step of the way. Read more.